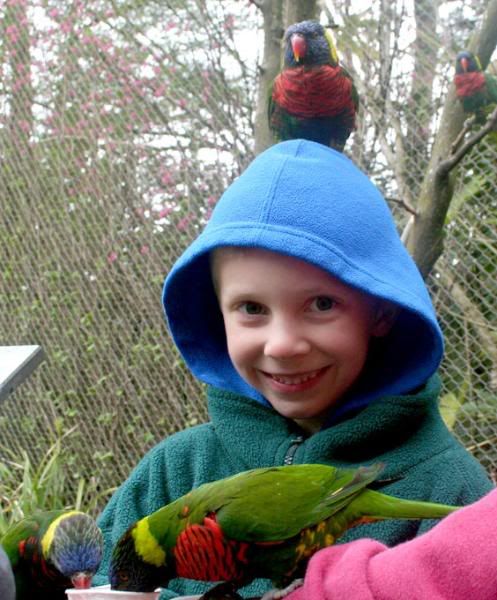 Wow what a trip! Well at least we made it home safely and had fun while we were there!

I have LOTS of pictures, so like with the Chuck E Cheese party pix, I'm going to just post a few here and then give you the link to the rest of them...make sure to check them out thought - there are lots of good ones! :)

To start out, we left Friday late morning/early afternoon with everything going as planned, on schedule. I dropped Lady off at the kennel early and Billy got off work early as well. Unlike how we usually are, always running late, this time we were running ahead of schedule. Yay!
The trip was going smooth, the boys were doing fairly well, and then Billy wants to stop off in a small town, Goldendale, that he was once going to move to as a child. There was an observatory there he wanted to show the boys, and we could maybe just stretch our legs a little bit, etc.

Thankfully he pulled off there! Because not a minute after we pulled into this town...CLUNK CLUNK. The Expedition was making horrible clunking grinding noises. We pull over quickly in an empty parking lot and Billy starts to check tires, oil levels, etc. Everything fine. So we start to back up and nope...reverse isn't working. The REVERSE isn't working?! Finally after gunning it - something clicks into gear and with more grinding and clunking we are able to crawl to the nearest auto shop, a few blocks away. At first glance, the mechanics think it's our transmission - something physically broke. Lovely.
We hang out at the shop for at least 4 hours until finally through lots of phonecalls and lots of help from the nice people at the auto shop, my mom is able to miraculously find an 7 seater SUV at an Enterprise car rental place 30 minutes away (she got a ride from one of the auto shop employees).

So finally, four hours after being in Goldendale hanging out in the garage or our broken Expedition (the garage closed at 5pm and my mom didn't come back with the rental car until after 6pm), we were finally on our way again!

At one point I thought that we weren't going to make it on our vacation, and I just wanted to make it home. However, with the rental car now there wasn't a reason why we couldn't continue on. Thankfully, Billy had decided to buy the warranty, for the first time ever, on the Expedition (which we bought less then 3 months ago) so this SHOULD all be covered. Even the rental car expenses will be mostly all covered. *crossing fingers* The rental car was way nicer then we expected too! It's a 2008 Chrysler Aspen SUV that is actually an 8 seater. Very luxurious but not as much room as our Expedition. We were packed in pretty tight with all of our luggage and the double stroller, etc.

The auto shop people said that we were very lucky that we pulled into Goldendale when we did...because the car could have very easily have broken down over the passes (which were in the middle of a snow storm) or the middle of nowhere! aack!

We check into our hotel finally at 9pm, phew. I don't know if I mentioned earlier or not, but the main purpose of this Portland trip was to meet up with a group of ladies I've known for a couple years on my All Boys message board on Ivillage. A couple of them were staying at our same hotel and somehow, maybe the front desk called them when we checked in, but they knew we were there and met us at the top of the elevator! I was nervous about meeting everyone that I only knew from an Internet message board, but it helped having a couple of them meet me first thing! It's a neat thing meeting people you've only known through typed words and pictures over the Internet for years - and suddenly seeing them in real life!
The next day, Saturday was the zoo trip and meeting the rest of the ladies from the All Boys message board. Unfortunately it was a cold, drizzly day in Portland - but at least it wasn't pouring down rain! As you can see, I've been trying to find the silver lining in all the clouds on the trip so far. LOL

It was hard keeping up and finding all the other ladies at the zoo, so for the most part we just did the zoo by ourselves, sometimes catching up with them here and there.
I've got LOTS of great zoo pix. The boys loved the zoo! Baby Billy slept through most of it. I think it might have been a tad shorter then the Seattle Woodland Park Zoo, or else we just skipped some of it...because we got done with the zoo in four hours, where usually it takes us all day long to do the Woodland Park zoo.

The boys were all given disposable cameras to take their own pictures, and they had great fun with that! I think they finished all eight cameras before we even finished with the zoo though!
I think the boys' favorite part was the Larikeet exhibit, where they let you walk through the Larikeets (like Parakeets) and buy nectar to feed them. They land all over you, your head, hands, shoulders...and the boys LOVED it! I got great pix there too. :)
After the zoo, we tried to find a mall near the restaurant we'd be meeting the ladies at for dinner later. This turned out to be our first time of many, getting lost in Portland. We finally stopped in some ghetto of Portland to buy a map. That was scary. LOL
We get to the mall with two hours to spare before dinner, BUT I had directions to the restaurant from the mall we were at so all was good. (Thanks Melissa!) At the mall we stop at the food court to get a quick bite to eat since we had all not had lunch yet and it was 3pm. Yumm Mall food never tasted so good!
Next we only had time for a quick trip to the Lego store and Game Stop (video games) store where the boys spent some of their money. (Brayden got a Lego Bionicle and Alex got a new game for his Wii...Super mario smash bros Brawl)
Then off to dinner at the Old Spaghetti factory we went! Dinner there was fun, lots of boys! haha Our reservation was for 30 but there ended up being a few extra I think? I THINK the total boy count was....20? (including the one "honorary boy" the one little girl in the sea of little boys. haha) I have pictures! You can imagine then how a dinner might be with 20 boys under the age of...I think 11-12-ish was the oldest?
It wasn't so bad actually though, just at the very end when everyone was done eating and trying to visit and the ice cream had kicked in. Phew! I think our group's waiter got very nice tips though. haha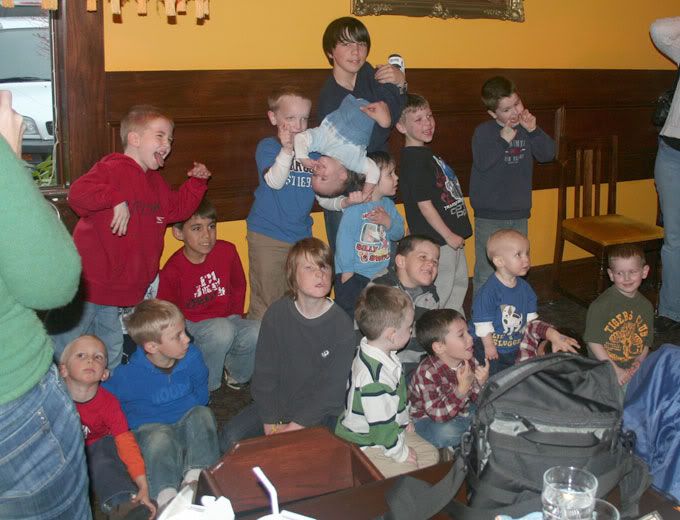 After the restaurant, we tried to find our way back to the hotel and got lost for the second time. We did a loop a couple times until we finally decided to stay on one road and after about 30 min we realized this is PROBABLY not the right road, and it was confirmed when we saw a sign to the Oregon coast another 50 miles. haha! We were driving to the ocean!
So then we had to stop for directions, again, and got back to our hotel again, around 9pm.
The boys only had very little enjoyment out of the pool since we kept getting back just an hour before the pool would close!
Sunday was uneventful thankfully. We got out early, and had a smooth trip. We also stopped at Multnomah Falls for some quick pictures and a short hike to the bridge. It was raining there too. uggh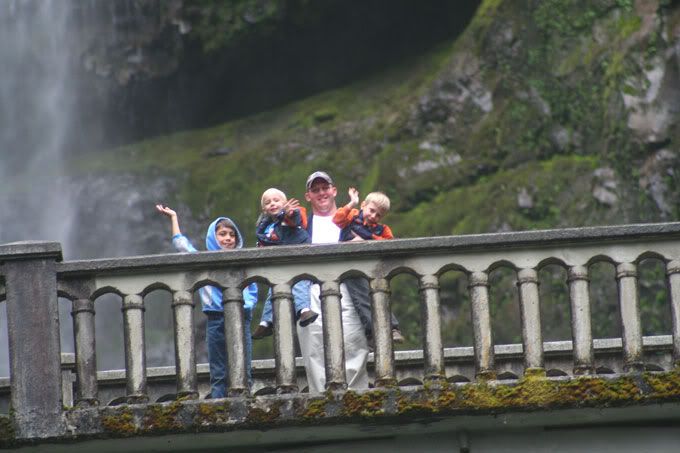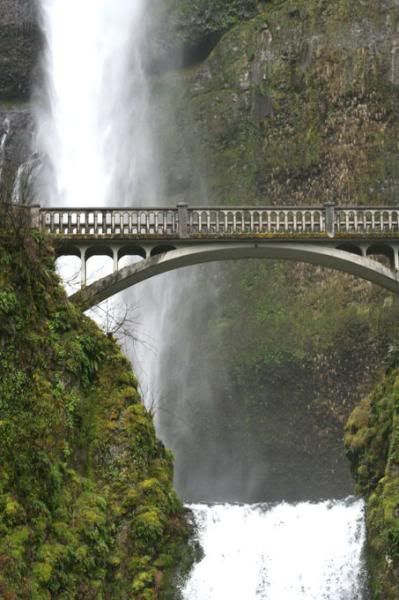 We got home Sunday afternoon, very tired, and all with lovely colds now. Probably from all the rain? haha
Our Expedition is still in Goldendale and will be until they fix it....could be late this week or next week. We're hoping next week since the warranty only covers 8 days and $30/day on the rental car, which is $50/day! ugggh
Happy to be home though! And gosh darn it - we DID enjoy the zoo and the meet-up dinner! Too bad our car is still left behind though.
I think we've had enough of a vacation for a couple years!
~Bethany
Photo album pix:
http://smg.photobucket.com/albums/v331/bethanbabes/Zoo%20and%20Meetup%202008/
(guest password: byington)